UW Weather
Straight from the University of Waterloo weather station.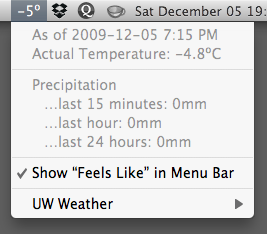 Sometimes I want the weather for the campus, not the airport. And I want it just a glance away, on my menu bar. UW Weather makes that happen.
Download UW Weather 2.0.10 for OS X 10.7 Snow Leopard or later. If you need to run on an earlier version of OS X, try this old, unsupported version.
Icon © 2008 xiao4.deviantart.com