What is Acquire?
Acquire lets you play Sid Sackson's classic 1962 board game online with other Acquire players. It is fully compatible with Kensit's NetAcquire application for Windows. It also has a local game mode for two to six players.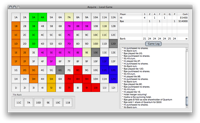 Features
Full compatibility with NetAcquire Windows clients and servers.
Automatically updates the list of games on the server, allowing you to join a game at the click of a button.
Planned improvements
Ability to toggle between using old-style and new-style hotel names and colours.
General prettying-up of user interface (Game Window buttons, the Game List drawer).
Server mode implementation.
No timelines have been made for the completion or availability of any planned features.
About Acquire
Acquire is coded in the Objective-C programming language. It makes use of the Cocoa programming environment, the Sparkle framework and AsyncSocket.
This website uses the syndicateme template from Open Source Web Design.